Yes, it appears MortgagesDebt.com has been penalized by Google
After doing everything Google suggests, such as building an accessible design and ensuring coding is clean and optimized, giving all pages unique Titles & Descriptions, having clean and relevant URL's, grinding our fingers to the bone writing unique content, not linking out to bad neighborhoods etc etc the site has been penalized and does not even rank in the top 100 results for "mortgagesdebt"
Instead they choose to display spam listings on .edu domains that redirect to porn, and sites flagged as "May Harm Your Computer" in the results ahead of us for the keywords we ranked for.
I have had 3 different "professionals" on Google and Rankings, commonly known as "SEO's" look at the site and nobody can find issues. They have stated Google is very unreliable, ranking sites in the top 10 one day and the next not in the top 100 and are known to arbitarily ban websites for little reason.
How a Google can determine a page relevant and worthy to be on the front page one day, then put it in the 100's the next is beyond me.. Obviously Google has problems and is very buggy.
Yes we chose to use Google's Adsense to assist with revenue to keep the site running, pay for server costs, the design, new material and to pay for new tools for visitors like our mortgage calculator. So i know i promised new tools last week, but unfortunately now people will be missing out on these unique tools which are half done thanks to Google!
Our site is unique in that we are not a mortgage company, we don't have affiliation with any, we do not promote affiliate links or products "pitching" any mortgage service. We are completely independent, and our only goal is to provide information to home owners, people in foreclosure, have finance problems and similar to help users.
My suspicion is Google has vested interest in CountryWide.com
Our ranking disappeared after slamming CountryWide.com as telemarketer spammers in our post CountryWide Keeps Calling Me
Also CountryWide appears as #1 in Google.com for the term "Mortgage Company" despite that term appearing absolutely nowhere on their page. So it's obvious, Google will show whatever they please despite the page not even containing the term you typed in.
This is our traffic sinking to nothing: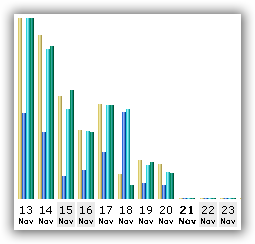 So considering we are not even ranking in the top #100 results for our brand "MortgagesDebt" anymore, Google is NOT a relevant search engine as they manipulate the results to show you what "they" want rather than what "you" want.
I strongly suggest if you use Google, switch now to Live.com their search engine seems to produce far more reliable and relevant results. I have been using it for the past week or so, and won't be using Google again.

Ok, looks like Part 3 of our ongoing installment which i should now call "Google does not know how to rank web pages" because it seems they can't. In part one Penalized by Google i showed stats and information about MortgagesDebt.com not even ranking in the Top 100 pages for our own name "MortgagesDebt" after what


Thanks for completely slapping me in the face after i wasted dozens of hours reading your guidelines and following them to the letter as best i could with my first blog. I was proud of it, i spent 100's of hours writing content for users like you said, i used to look forward to waking


Just a quick update on my post the other day Penalized By Google where i outlined how Google for whatever reason decided to kill the site and not even rank it in the top 100 sites for it's own brand name "MortgagesDebt". How or why Google decided MortgagesDebt.com was not at all relevant for "MortgagesDebt" is


Credit card debt can really disturb the peace of your mind. You keep hearing stories about people who run a debt on their credit card debt. Some of these stories are serious and some others are amusing. Heres an amusing one: The other day I heard a guy tell his story about how he went on


Card com credit debt en language site So tired that I typed card com credit debt en language site Credit card debt can really disturb the peace of your mind. You keep hearing stories about people who run a debt on their credit card debt. Some of these stories are serious and some others are amusing. Heres