Just a quick update on my post the other day Penalized By Google where i outlined how Google for whatever reason decided to kill the site and not even rank it in the top 100 sites for it's own brand name "MortgagesDebt".
How or why Google decided MortgagesDebt.com was not at all relevant for "MortgagesDebt" is a mystery, whether it was a bug or they were having a bad couple of days i will never know but it appears it has been fixed. Well not completely, we are the third site for MortgagesDebt now so at least people looking for us specifically by name do not have to wade through a couple of hundred irrelevant sites to do so.
This is how it looked: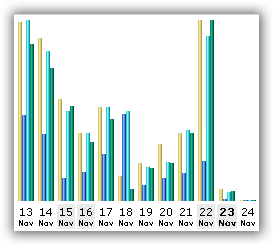 Today is the 23rd November, and on that stats program it's currently sitting on 3am for today hence the small column on the graph for the 23rd so we will have to see what happens. All the other search terms people found us by in the past before the bug/glitch/penalty seem to be back roughly where they were before.
So far so good, but it is worrying why Google do this. I know it's not just me, i have searched a specific term before, found a really cool and interesting site and forgot to bookmark it and the following day searched the same specific term and could not find the site again after wasting 30 minutes looking through the top 100 or so sites.
Google, if you are reading this please stop it! Many people don't bookmark every site they come across, but rather remember what they typed to find it yesterday or a couple of days ago and it's so annoying typing it again and the site has vanished.
I know how to get to the shop to get a bottle of milk, imagine if they moved the shop every day and you had to randomly drive (browse) around hoping to come across it by chance each day? personally i would stop shopping there.
Anyhow, lets see if our shop MortgagesDebt.com is in the same spot tomorrow or it's randomly moved about a hundred blocks south.

Ok, looks like Part 3 of our ongoing installment which i should now call "Google does not know how to rank web pages" because it seems they can't. In part one Penalized by Google i showed stats and information about MortgagesDebt.com not even ranking in the Top 100 pages for our own name "MortgagesDebt" after what


Yes, it appears MortgagesDebt.com has been penalized by Google After doing everything Google suggests, such as building an accessible design and ensuring coding is clean and optimized, giving all pages unique Titles & Descriptions, having clean and relevant URL's, grinding our fingers to the bone writing unique content, not linking out to bad neighborhoods etc etc


Thanks for completely slapping me in the face after i wasted dozens of hours reading your guidelines and following them to the letter as best i could with my first blog. I was proud of it, i spent 100's of hours writing content for users like you said, i used to look forward to waking


Credit card debt can really disturb the peace of your mind. You keep hearing stories about people who run a debt on their credit card debt. Some of these stories are serious and some others are amusing. Heres an amusing one: The other day I heard a guy tell his story about how he went on


Card com credit debt en language site So tired that I typed card com credit debt en language site Credit card debt can really disturb the peace of your mind. You keep hearing stories about people who run a debt on their credit card debt. Some of these stories are serious and some others are amusing. Heres