MortgagesDebt.com is pleased to announce the launch of our Mortgage Calculator which is the first of many free online tools we will be releasing.
Mortgage calculators are an excellent way to initially research so you have an idea what you can afford. The calculator can also be used to compare the costs between several different loan companies, determine the impact on the duration of the mortgage loan, making added payments for example bi-weekly instead of monthly payments. We are glad to release a tool that enables the user to quickly determine the financial implications of changes to variables in a mortgage financing arrangement.
You can also use the mortgage calculator to generate an estimated amortization schedule for your present mortgage. Quickly visualize how much interest you "could" pay and your estimated principal balances.
Sometimes just having the information laid out in an easy to visualize manner sheds light on the situation, then making comparisons by changing a single mortgage variable ensures you get the "best" loan arrangement from your mortgage company. Here is a screen shot of a $275,000 mortgage over 30 years, at an interest rate of 6.5% with 1.25% Property Tax and a PMI of 0.5%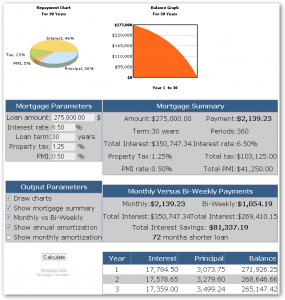 Note: It shows the Interest, Principal and Balance for every year over the course of the loan however i have only shown the first 3 years otherwise the screen shot would of been quite long. So there you have it, go check out the new MortgagesDebt.com

Here is a Free Financial Calculator to make it easy to organize and manage your auto loans, all that is required is MS Excel. It is 100% free, no advertising, no referring links to any company, no programs to install and you can edit it to suit your needs. As you can see it has provisions


We have developed a Debt Consolidation Loan Calculator on MortgagesDebt.com which is free to use, the reason we implemented the calculator is because we have found many people cannot manage their debt simply because they can't "visualize" the extent of their problem.. Which makes Debt Consolidation difficult, if you don't know where the problems are


Yes, it appears MortgagesDebt.com has been penalized by Google After doing everything Google suggests, such as building an accessible design and ensuring coding is clean and optimized, giving all pages unique Titles & Descriptions, having clean and relevant URL's, grinding our fingers to the bone writing unique content, not linking out to bad neighborhoods etc etc


Here at MortgagesDebt.com we have had numerous people asking What is a Loan Modification and looking for ways to obtain a loan mod. Due to the state of the economy, and with many people being laid off work with their place of employment closing down getting a modification to your loan is a reality. So… A Loan


Sometimes lenders will require that LMI be paid for a fixed period (for example, 2 or 3 years), even if the principal reaches 80% sooner than that. Legally, there is no obligation to allow the cancellation of MI until the loan has amortized to a 78% LTV ratio (based on the original purchase price). Although many